When making Chinese dumplings at home, you need dumpling fillings and wrappers. Usually there are two ways to get dumpling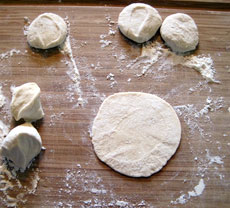 wrappers: you can either buy them from Asian supermarket or make them at home by yourself. Between these two types of wrappers, I prefer to use homemade dumpling wrappers because they taste better. Here I am going to share with you some tips for making Chinese dumpling wrappers and a Chinese dumpling wrapper recipe that you can use to make wrappers for boiled dumplings at home.
All the required ingredients for making dumpling wrappers are listed below. And in the cooking instruction section, I will give you a step-by-step guide on how to make Chinese dumpling dough and wrappers.
How to make Chinese dumpling wrappers
Major Ingredients
• All purpose flour, 3 cups
• Water, 1.4 cups
• Salt, ½ teaspoon
• Spinach/carrot/beet juice (optional)
You may also want to learn how to make Chinese dumplings.
Instructions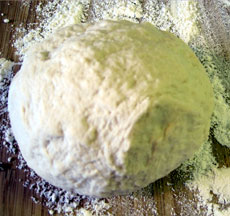 1. Put 3 cups of all purpose flour into a large bowl. Add 1.4 cups of water. If you want colored wrappers, add ½ cup of spinach/carrot/beet juice, and 1 cup of water. To get vegetable juice for coloring, simply blend the vegetable in a blender and strain away the solids before use.
2. Add salt to taste. If I will be boiling the dumplings, I add ½ tsp of salt, because some the wrappers become less salty when boiled. If I am steaming or frying, I use 0.3 tsp of salt because it would otherwise be too salty.
3. Knead the dough into a smooth ball. You can use a bread-maker or an electric mixer to knead the dough if you have one. But you don't have to use a machine to make the dough, and you can always knead the dough with your hand.

4. Cut the dough into 30-40 small pieces and shape them into small balls. Use your hand to squeeze them and make them flat. Then use the rolling pin to roll out each piece of dough into a circular wrapper about 3 inches in diameter and they are ready to use.
You see if you follow this easy Chinese dumpling wrapper recipe correctly, it is really not hard to make home dumpling wrappers.
Of course, dumpling wrappers can also be purchased commercially at your local Asian food grocer, but there are still several good reasons why you would want to make your own wrappers.
Firstly, in my experience, home-made dumpling wrappers just taste better. You can make them to your exact thickness and flavor that you like.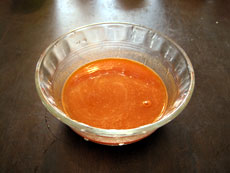 Secondly, home-made wrappers simply hold together better when they are cooked. If your dumpling wrappers keep coming apart in boiling water, it could be that the commercial dumpling wrappers that you are using are simply no good. I had to go through several batches of wrappers before I found one brand that sticks reasonably well when folded and can stand being boiled. And even that brand is not as good as the dough that I make myself.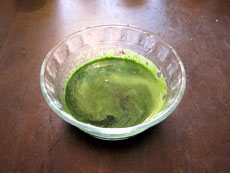 Finally, you can also alter the color of the dough you make, so that you can tell two types of dumplings apart. I occasionally make two types of dumplings at once (it's a bit monotonous to eat only one type of dumpling for dinner), and simply add a bit of spinach juice to one batch of dough to color it green, and use the green wrappers to wrap one type of dumpling and the plain wrappers for the other. I prefer to use only natural colorings like spinach juice (green), carrot juice (orange), or beet juice (purple), but if you are okay with artificial food colorings, you can color the dough in any color you choose.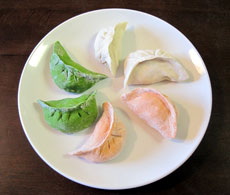 If you are curious to know how the dumplings look like when they are made with colorful wrappers, please see the images that I post here. One shows some green dumplings, the other shows some orange dumplings. The green color and the orange color come from the spinach juice and the carrot juice respectively.
Of course it is optional to make dumplings with colorful wrappers, but I think it is a fun way to make Chinese dumplings and that is why I add the information when showing you how to make Chinese dumpling wrappers.