To make Chinese dumplings, you need to prepare both the fillings and the wrappers. To save time, you can buy the wrappers from an Asian grocery store. However, the quality of store-bought wrappers may vary. It is not difficult to make wrappers at home, and homemade wrappers both taste better and are easier to wrap with. In this article, I will cover every aspect of making Chinese dumplings, including making the wrappers from scratch. I have divided the article into 6 sections as listed below. If you are familiar with a certain topic, feel free to skip it. You can also click on the sub-titles to navigate to the corresponding section.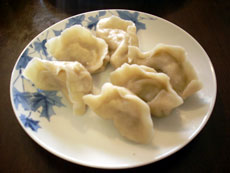 To explain the process of making dumplings, I will use the classic Pork, Shrimp and Nappa Cabbage dumpling recipe as an example. This is merely for convenience, as all the ingredients in this recipe can be found easily. The recipe itself is not the focus of this article; the techniques are. The techniques shown here can be used on any of the recipes on this site. If you are a vegetarian or are allergic to shrimp, you may want to find other Chinese dumpling recipes on our website. Please see the categories on the sidebar for details.

1. Ingredients needed for Pork, Shrimp and Nappa Cabbage dumpling recipe
2. How to make Chinese dumpling dough.
3. How to make Chinese dumpling wrappers.
4. How to make Chinese dumpling fillings.
5. How to wrap Chinese dumplings.
6. How to cook Chinese dumplings.
How to Make Chinese Dumplings from Scratch
Ingredients for making dough and wrappers:
All purpose flour, 4cups
Water, 1.8 cup
Salt, 1/3 teaspoon
Ingredients for making the filling:
Pork (ground), 1.5 cups
Shrimp (ground), 0.5 cup
Napa cabbage, 2 cups
Ginger, 1 teaspoon (tsp)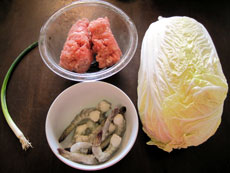 Green onion, 1 tablespoon (tbsp)
Salt, 1.5 teaspoon
Soy sauce, 2 tablespoon
Cooking wine, 1 tablespoon
White pepper, 1/3 teaspoon (optional)
Sesame oil, 1 tablespoon
Vegetable oil, 1 tablespoon
You may also want to see how to make Chinese dumplings.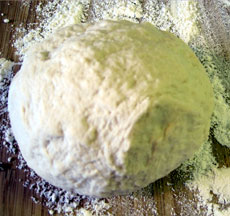 How to make Chinese dumpling dough
1. Mix 4 cups of flour, 1/3 teaspoon of salt, and 1.8 cups of water in a large bowl. Mix until you get a smooth dough.
2. Cover the bowl with a cling film and let the dough rest for at least 10 minutes.
How to make Chinese dumpling wrappers
1. Remove the dough to a clean flat surface. Cut it into 20 equal pieces.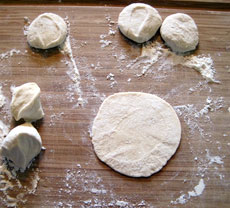 2. Use your hand to gently pound a piece of dough into a small circular disc, then use a rolling pin to roll each piece into a circular wrapper about 3 inches in diameter.
3. The wrappers can be used to wrap the filling immediately. For storage, they should be coated with flour so that they don't stick together. They can be stored in the fridge for several days, or frozen for long-term storage.

How to make Chinese dumpling fillings
1. Finely chop enough nappa cabbage to fill about 2 cups. Place the chopped cabbage in a bowl and mix with 1 teaspoon of salt. The salt will draw out excess moisture from the cabbage. Let it sit for 5 minutes.
2. In the meantime, add 1.5 cups of ground pork, 0.5 cups of ground shrimp, 1 teaspoon of finely chopped ginger, 1 tablespoon of finely chopped green onion, 0.5 teaspoon of salt, 1 tablespoon of cooking wine, 1/3 teaspoon of white pepper, 2 tablespoon of soy sauce, 1 tablespoon of sesame oil, and 1 tablespoon vegetable oil in a bowl. Stir well to mix.
3. Strain the excess water away from the nappa cabbage and mix the cabbage into the pork and shrimp. Let sit for 10 minutes.

How to wrap Chinese dumplings
1. Place a small spoonful of filling in the center of each wrapper.
2. Smear a little water on the edges of the wrapper, then fold the wrapper over filling and pinch the two edges together, forming a half-circle.
3. Place the wrapped dumplings on a plate coated with a little flour so that they don't stick.

How to cook Chinese dumplings
1. Add a dash of salt to a pot of water, and bring to boil. Slightly salty water will give the dumplings more flavor, and help prevent the dumplings from sticking to the pot.
2. When the water has begun boiling, add the dumplings to the water. Wait 5 minutes for the water to come back to a boil, and then turn down the heat and continue to simmer for 10 minutes.
3. Drain the water from the dumplings and serve with your favorite dipping sauces.